Pediatric Orthotics Casting Videos and Information
Often referred to as shoe inserts, custom orthotics are made specifically for your child's feet. Also known as prescription orthotics, custom shoe inserts are manufactured based on a casting of your child's feet. The best custom orthotics casting is made using plaster. However, we sometimes use a foam casting if the child is unable to remain still for the required time.
Methods of Custom Orthotics Casting
There are two main casting methods used to create prescription orthotics: plaster and foam.
What Is Custom Orthotics Casting?
Custom orthotics casting is the process of creating a mold of your child's foot in order to design a pediatric orthotic that perfectly fits that foot. The resulting orthotic not only matches every contour of your child's foot, its design supports his or her unique movement to treat the underlying pathology.
Plaster Casting for Custom Orthotics
Assuming the pediatric podiatrist performing the casting is skilled, plaster is the preferred medium. That's because plaster casting creates the most precise mold of your child's foot.
How is plaster casting done?
At Pediatric Foot & Ankle, we start with a thorough exam of your child from the knee down. This helps Dr. Jarman understand your child's unique foot structure and pathology. The doctor then performs a variety of measurements, takes a complete medical history, and examines the child's footwear.
Now it is time for the casting. For best results, this is always done with your child in either the seated or supine (lying down) position. This is called a non-weightbearing cast.
Dr. Jarman wraps strips of wet plaster around your child's foot. It takes around 10 minutes for the plaster to harden enough for removal. During that time, the doctor remains with your child to ensure his or her foot maintains the proper position.
After 24 hours, the plaster cast has hardened completely and can be sent to the lab to create the custom orthotics.
Foam Casting for Custom Orthotics
Although plaster casting creates the most accurate mold of your child's foot, Dr. Jarman may need to perform a foam casting instead. Typically, this is only done if the child is unable to remain still long enough for the plaster to harden.
How is foam casting done?
Foam casting follows the same basic steps outlined above, with the exam preceding the casting. Once that is complete, Dr. Jarman rests your child's foot on top of the foam, manipulating it until he has the perfect angle. He then presses each foot into the foam to create the mold. The entire process takes only a few minutes.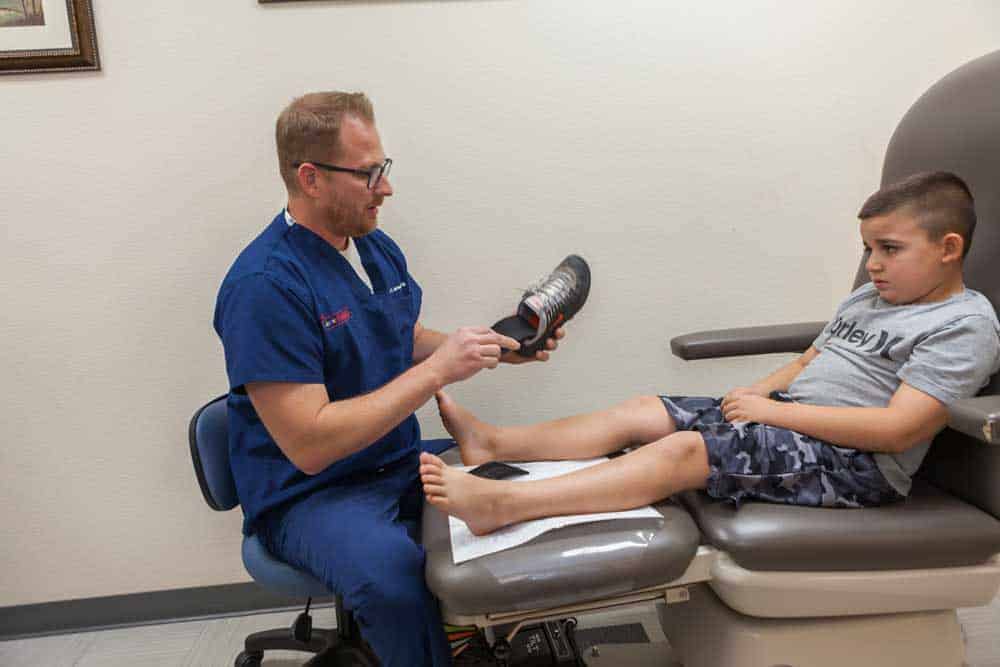 Are Prescription Orthotics Better than Over-the-Counter Inserts?
Although some over-the-counter inserts are better than others, none of them are as good as a custom orthotic made specifically to fit your child's foot. Of course, if your insurance does not cover prescription orthotics, the price can be prohibitive. That's why we continually look for the best over-the-counter options available today, to support parents in finding the best, most affordable option for their child's feet.
If your child experiences heel pain or any other issue requiring corrective orthotics, we urge you to schedule an appointment. Dr. Jarman will work with you to help you understand your options.
Your Child's Feet Are Designed For Life