Children's Foot Doctor in Chandler serving all of Arizona.
Specializing in Diagnosis & Treatment of Children's Foot Conditions
Address:
30 S. Kyrene Rd, Suite #3
Chandler, AZ 85226
Phone:
(480) 534 -7220
Fax:
(480) 497-3947
Hours:
Mon – Fri: 9AM – 5PM
Mikkel C. Jarman, DPM, FACFAS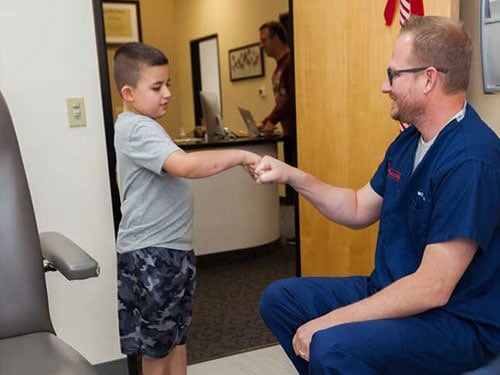 Mikkel C. Jarman, DPM, FACFAS - Pediatric Podiatrist
Meet Dr. Jarman with Pediatric Foot & Ankle
Dr. Jarman has a passion for helping children with their foot problems, and his work has helped countless kids live happier, healthier lives.
Recognized as one of the top pediatric podiatrists in the world, Dr. Jarman's expertise in pediatric podiatry and all children's foot issues is often sought out from other podiatrists across the United States.
Pediatric podiatrists are a specialized subset of physicians that care for children's feet and ankles. The specialization is important because many pediatric foot conditions go undiagnosed or untreated until adulthood, when they become more complex to treat. Dr Jarman has been providing excellent children's foot care & treatment services since 2014 and is committed to the health of your child's feet now as well as in the future.
If you'd like more information on what we offer here at Pediatric Foot & Ankle Clinic please contact us today!
Camden, a 6th grader in Gilbert, Arizona, was treated for Sever's Disease by Dr. Mikkel Jarman at Pediatric Foot & Ankle. Before being treated, Camden described the pain as intense, and what he imagined it would feel like to "be stabbed in the bone with a knife". Based on his examination and Xray results, Dr. Jarman recommended a custom orthotic. After five weeks, Camden was able to participate in sports again and, to this day, has no pain or mobility issues.
We always recommend parents consult with a pediatric podiatry specialist to treat their child's foot ailment. When left unchecked, pain and other issues can lead to your child developing hip and back problems and possibly obesity.
"Children's and adult foot conditions are NOT the same and should NOT be treated the same."
- Dr. Mikkel Jarman
Susan was at a friend's birthday party when a recliner tipped over and a piece of metal wedged into her foot. Susan shares this experience and how Dr. Jarman kept her involved in all of the decisions and would speak to her directly instead of through her mom about her treatment options. This really made her feel respected and put her at ease. Susan's mom was also appreciative of Dr. Jarman's approach and impressed at how he was able to clearly explain all of her options and what each entailed.
In this video Susan and her mom share their experience with Dr. Jarman and the rest of the staff at Pediatric Foot & Ankle.
When Ryan first began feeling pain in his left heel he didn't think too much about it. As time went by, the heel pain became more frequent and painful and he and his parents knew it was time to see a doctor.
They met with Dr. Jarman who performed a comprehensive initial exam including xrays which did confirm that Ryan had Sever's disease. Regardless of how menacing the name sounds, Sever's disease is a common enough affliction of the heel that happens to many kids (The ABCs of Sever's Disease).
In this video Ryan and his parents share their story about his treatment for Sever's disease, and the results.
Conditions diagnosed and treated by pediatric podiatrists include toe walking, flat feet, clubfoot, pigeon toe walking (also known as in-toeing), knock knees, bowed legs (which can be caused by positioning in the womb), and a variety of other ailments and conditions.
Common children's foot, ankle and lower leg conditions treated by a pediatric podiatrist include:
Childrens Foot and Ankle Conditions:
Ailments from the ankle down
Congenital deformities of the ankle and foot in newborns, such as clubfoot
Bone and joint deformities in the foot and ankle
Sprains and fractures of the foot and ankle
Puncture wounds, foreign bodies, and abscesses in the foot and ankle
Skin and soft tissue problems, including ingrown toenails, soft tissue masses, plantar warts, athlete's foot, and fungal toenails
Monitoring foot growth and development
Common Problems That Affect Children's Feet
Many of the foot conditions that affect adults, such as flat feet, plantar warts, ingrown toenails, and heel pain, affect children as well. However, a child's rapid development coupled with their more active lifestyle results in some of these conditions occurring more frequently or taking on different characteristics compared to adults. For example, normal bone and muscle growth may result in heel pain or flat feet. Increased time on their feet also makes children and adolescents more likely to develop warts and ingrown toenails.
When children have strong, healthy feet, it helps them avoid a variety of lower body issues in adulthood. To protect them, have your child's feet examined periodically.
Finally, pay close attention if your child complains that their foot, ankle, or heel hurts. Also, look for signs of pain, such as your child no longer wanting to run or be active. Very young children don't always tell us when something hurts. If your child takes dance lessons or plays sports, foot injuries and pain are common.
Pediatric Podiatry: Gentle Care and Treatment of Children's Feet in the Greater Phoenix Area
The team at Pediatric Foot & Ankle is highly experienced in treating children's foot problems. Whether the issue has been present since birth or is an acute injury, we can help.
We treat many children and teenagers whose foot problems prevented them from participating in dance or sports. With proper diagnosis and treatment, these children can once again participate in their favorite activities and develop healthy habits that last a lifetime.
Gentle care and treatment of children's feet. Contact Dr. Mikkel Jarman – Pediatric Podiatrist, Phoenix area in Gilbert, Arizona specializing in heel pain, flat feet, and other foot problems – ankle pain, foot pain ailments, or congenital deformities of the foot or ankle.
Your child's feet are designed for life
Make an appointment today if your child is in need of a pediatric podiatrist.